Archived Webinars
Gain valuable insights from MET's experts across a wide range of industries, topics, trends, and regulatory requirements in our archived webinars library. Our webinars are an opportunity for you to gain first-hand knowledge into navigating compliance complexities worldwide, from some of the world's foremost experts in testing, inspection, and certification.
Recent Webinars
RTCA/DO 160 Avionics EMC
RTCA/DO-160 requirements for commercial avionics, understand Boeing & Airbus compliance requirements, Learn to pass HIRF testing requirements to FAA & RTCA.
MIL-STD 461G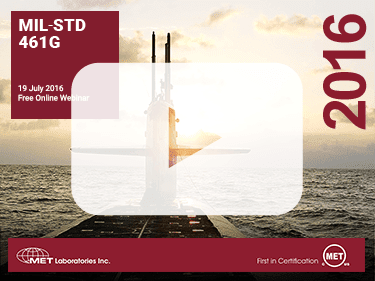 Get an in-depth look at MIL-STD-461G requirements for controlling EMI, understand the most significant changes outline by G Version, Identify other miscellaneous changes, Learn MET Labs Capabilities – get products testing & certified for major markets.
60601-1-2
">
EMC for Medical Electrical Equipment and Systems IEC 60601-1-2 Scope: Covers emissions and immunity of both patient-coupled and non-patient-coupled devices.
Radio Equipment Directive
Introduction, scope, and update to the RE Directive. Manufacturer responsibilities, labeling of equipment, and conformity assessment.